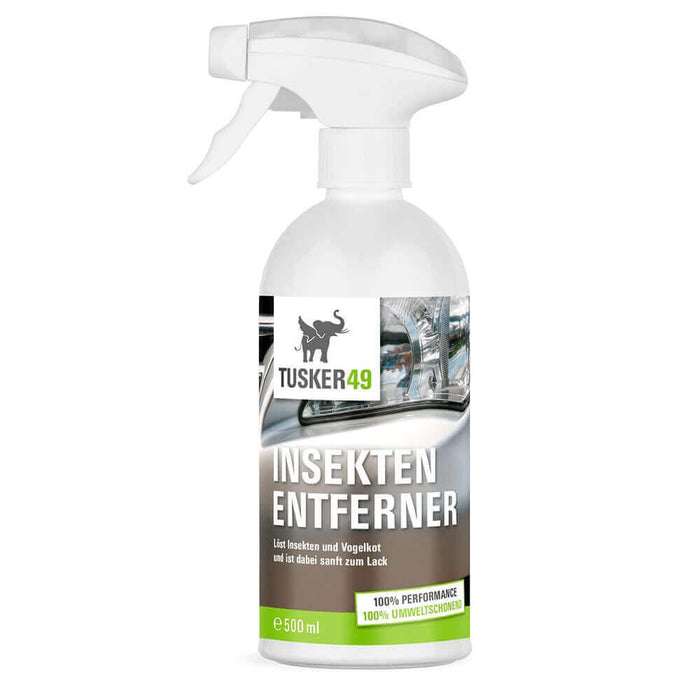 TUSKER49 Organic Insect Remover
Availability:
in stock, ready to be shipped
Original price
€10,95
-
Original price
€10,95
Good for the material, good for the environment: TUSKER49 Mineral-based insect remover protects the environment - but not insects and bird droppings adhering to the paintwork. Both are removed quickly and thoroughly, whether on glass, paintwork, plastic or chrome. Also ideal as a pre-treatment for the car wash. Gentle and perfect application thanks to the complete absence of industrial alcohols, solvents and acids. Hard on dirt, gentle on e-cars.
HOW TO MAINTAIN PROPERLY
Spray the soiled areas properly and leave TUSKER49 Insect remover soak in briefly. Then with a damp sponge or the TUSKER49 Wipe fleece thoroughly. Rinse with plenty of water. In the event of resin contamination, spray on a kitchen towel, leave on for a quarter of an hour and wipe off with a little pressure.
INGREDIENTS
< 5% nonionic surfactants, < 5% sodium hydroxide
Skin compatibility dermatologically tested. Keep out of the reach of children. Dispose of contents / container in accordance with local / regional / national / international regulations. Container closed and store at room temperature.
Protect from frost, heat and direct sunlight.